About Us
History of Trinity Baptist Church
The history of our church started on March 15, 1964 when the first service was held by a number of believers of Baptist persuasion who lived in the Battleford area. One month later a decision was made toward organizing a Baptist church for the Battleford's. Deacons, Treasurer and Church Clerk were elected on a temporary basis. On December 1, 1964, a constitution was adopted and the church family was organized on January 5, 1965 with 21 members. Our church was formerly known in the early days as Battleford Baptist Church and the congregation meet in what was then the Odd Fellows Hall located on 100th street. Today that is the location for Cherry Insurance.
Since those early days, we have continued to see steady growth under the capable ministry of several Pastor's. The first being Rev. John Wheeler who came to us in 1964. In 1973, Rev Walter Kokot was called to Pastor the work and soon land was purchased at the location we have today and the first building erected in 1975. In 1976 the church officially changed its name to Trinity Baptist Church. In the 80"s a second addition was attached to the original building which today houses a small gym, kitchen, office, bathrooms and youth room.
"TBC" has also been the home in the past as well for the Heritage Christian School which is now located in Battleford and the Battleford Native Christian Fellowship church (Interact Ministries).
Since the inception, Trinity Baptist Church has been an autonomous work that is affiliated with the Baptist General Conference of Canada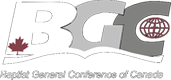 The Baptist General Conference had its beginning with the Swedish immigration movement to North America. The first Swedish Baptist church in Canada was actually started in the province of Quebec in t1870′s. Three Swedish men met to form a church but it disbanded three months later when all three moved west in search of new opportunities. Grant Memorial Baptist Church in Winnipeg is our oldest surviving church. It began in 1894 and was responsible for starting five daughter churches in Manitoba and western Ontario. These five churches formed the Central Canada Baptist Conference.
While serving the Winnipeg church, Rev. Martin Bergh found time to visit Swedish communities in Alberta in 1894. A Swedish Baptist church was organized in the Battle River area south of Camrose in the year 1900 with 32 charter members. The First Baptist Church of Matsqui, British Columbia was organized in March 1910 with 18 members from the Swedish Baptist Church in Bellingham, Washington.
Originally, BGC churches in Canada were affiliated with the BGC churches in the United States forming a single entity. Swedish was the original language spoken but by the 1930′s most churches conducted services in English. In 1975 Canadian church leaders began talking about forming a cross-Canada fellowship. There were three districts initially; Central Canada Baptist Conference, comprising of western Ontario, Manitoba, and Saskatchewan; Baptist General Conference in Alberta; and the British Columbia Baptist Conference.
An ad hoc meeting was organized in Calgary in the spring of 1977 to explore the possibilities of working in order to broaden our mission in Canada. A recommendation came out of the second meeting that the Canadian churches consider forming the Baptist General Conference of Canada. Churches were invited to send representatives to Regina in April 1981 to officially consider the advisability of this recommendation. This historic motion passed by more than 95% in favour of this action.
The Baptist General Conference of Canada was born. The vision was and still is to reclaim Canada for the Lord. The BGC's Vision is: To Plant and Grow Worshiping, Caring Churches Globally.
Local Churches are its Base
Jesus Christ is the head of each church. The Lord governs each church through the indwelling Holy Spirit. The Holy Spirit equips the members of each local church for roles and ministry to meet its needs and to cause it to grow in Christ through prayer, evangelism, discipleship, worship and caring.
All of a church's needs are met in this way, including those of leadership, through pastors/elders, deacons, teachers, and workers, who, with respect for congregational rule and in the spirit of Christ, are responsible for: direction setting, policy making and decision making, discipline, standards, godliness.
Trinity Baptist Church is part of this fellowship of churches. "TBC" is self governing (as described above), self-supporting, and self propagating.
Scripture is the final authority for "BGC" churches in all matters of faith and practice. Churches function under biblical authority by means of congregational deliberation and decisions, led by the Holy Spirit working through recognized leaders.
Leaders and people are to be subject, at all times, to the teaching of Scripture as they are illuminated by the Holy Spirit, There is no other authority over local churches, other than the legitimate laws of governments.